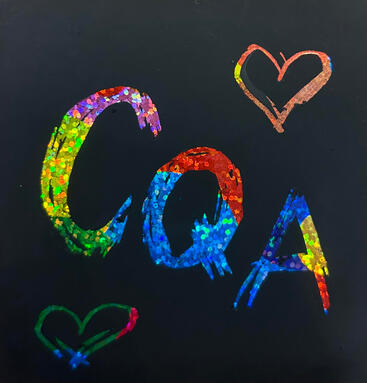 Welcome to CQA!
Who We Are
CQA stands for "Campus Queers & Allies," as that's who we are!
What We Do
We're a student-run LGBTQ+ group on campus that holds weekly meetings with different discussion topics for the LGBTQ+ community. We're open for anyone in the campus community, whether you're undergrad, grad, staff, faculty, or some mix of the above.We also do fun events like game and movie nights!
---
Where You Can Find Us
We primarily use Discord for chatting and interactions, but you can also join our GroupMe or our email list to get weekly updates about what we're up to. Our meetings for Fall 2023 will be held in the Edward St. John building on Fridays from 5-6pm. More info can be found in our Discord and GroupMe!Please note that all in-person meetings will require masks and that you will be asked to step out of the room if you need to take off your mask to have a snack. No eating will be allowed in meeting rooms.
Links to the GroupMe and Discord are below, and if you'd like to join the email list, please fill out the sign-up form to be added! You'll start getting our weekly emails once we get your info (but feel free to shoot us an email at [email protected] if you don't!).See you soon!!
Most of all, please know that you are welcome here at UMD and that there is and will always be a place for you.
Fall 2023
Welcome to the Spring semester!!
To learn more about other queer gatherings on campus, view/click the image(s) below:
---
Questions, comments, or concerns? Email us at [email protected]!